X-Club organizes Outdoor Activities & Outdoor Teambuilding!
From the years of experience in conducting the activities we offer not only in Bulgaria, but also abroad, we know that security, equipment and professionalism are of great importance for you. Through constant renovation, training and new ideas, we try to maintain a high level in everything we do to provide you with a successful and enjoyable experience!
Born: 20.04.1971
Education: NSA - Tourism and Mountaineering Qualification: rafting instructor and lifeguard in white waters from the Prague Sports University, kayaking and mountaineering
Experience: 17 years of active work in the outdoor industry, 2 years of which a teacher in the training center "Malyovitsa", 2.5 years in Sunbornholm - Denmark
Interests: kayaking in white waters, rafting.
Born : 27.04.1980;
Education : Graphic design and prepress preparation;
Qualification : Former sambo and boxing contestant bartender ; Experience : rafting instructor,
mountain guide,
rock climbing; Interests : trekking,
rock climbing, rafting, snowboarding, skiing, cycling.
Born : 27.11.1988;
Education : High school specialized;
Experience : rafting instructor since 2011;
Interests : rafting, white water kayak, skiing, motorbikes, cycling;
Born: 13.12.1975;
Education: Eng. Communication equipment and technologies;
Experience: 6 years. sports rafting, rafting instructor since 2012;
Interests: rafting, swimming, fitness, skiing,
Nationality: Russia;
Born: 07.01.1986;
Education: International relations at the University of Moscow;
Qualification: rafting instructor, experience in Turkey, Montenegro, Argentina, Mexico, Brazil, Greece, Peru. In Russia, she worked as a catamaran instructor;
Experience: rafting instructor since 2010, having been working on Struma river since 2013;
Interests: rafting, books; dogs
Born: 22.10.1988;
Education: Technical University;
Experience: rafting instructor from 2012;
Interests: motorbikes, rafting;
Born: 31.03.1981;
Education: Eng. Industrial engineering;
Qualification: completed course for rafting instructors at IRF, automotive judge – 2nd category;
Experience: 6 years of sports rafting, rafting instructor from 2016
Interests: volleyball, rafting, kayaking, caves, books, hiking, languages (English, Hebrew, Russian, Japanese);
Born: 26.12.1999;
Education: Secondary education;
Qualification: Academic rowing;
Experience: rafting instructor from 2018;
Interests: rafting, white water kayak, fitness;
Born: 10.12.1989;
Education: Canoeing Education Coach Higher NSA;
Qualification: rafting instructor, canoeing, dragon boats;
Experience: rafting instructor since 2016
Interests: kayaking, rafting, motorsports and water
Born: 12.08.1986;
Education: Eng. Computer systems and technologies;
Qualification:life guard, completed rafting guide course to IRF, kayaking course in fast waters BKO;
Experience: 1 year sports rafting, rafting instructor since 2011;
Interests:white water kayak, rafting, swimming, rock climbing, trekking, cycling, skiing;
Born: 25.07.1989;
Education: Blagoevgrad University – Kinesitherapy;
Qualification: class 2 rafting guide, masseur, kinesitherapist;
Experience: rafting instructor since 2009; working in the outdoor team building since 2005;
Interests: rafting, skiing, hiking, wrestling;
Born: 15.04.1988;
Education: Civil engineer;
Qualification:rafting instructor;
Experience: rafting instructor from 2017;
Interests: trekking, rock climbing, rafting and snowboarding;
Born: 17.05.1979;
Education: medium special;
Qualification: rafting instructor class 3;
Experience: rafting instructor since 2009;
Interests: white water kayak, hiking, kayaking, snowboarding;
born: 19.05.1982;
Education: Mechanical engineer;
Qualification: Photographer;
Experience: 6 years of photography , 10 years of snowboarding;
Interests: Snow, Mountains , Freeride Snowboarding, Photography;
Born: 16.12.1977;
Education: MGU, Speciality-Flotation;
Qualification: professional filming of footage in extreme conditions, kayaking in fast waters;
Experience: 6 years experience with photography in extreme conditions, 7 years experience in white water kayak, 10 years experience in kayaking;
Interests: rock climbing, bike, kayaking, photography;
X-club is a member of the Bulgarian Tourism Federation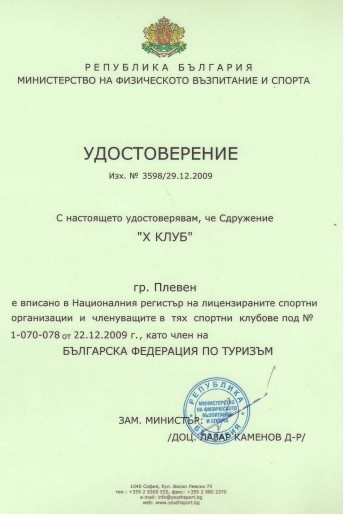 British Canoeing Union (BCU) Certificate of Completion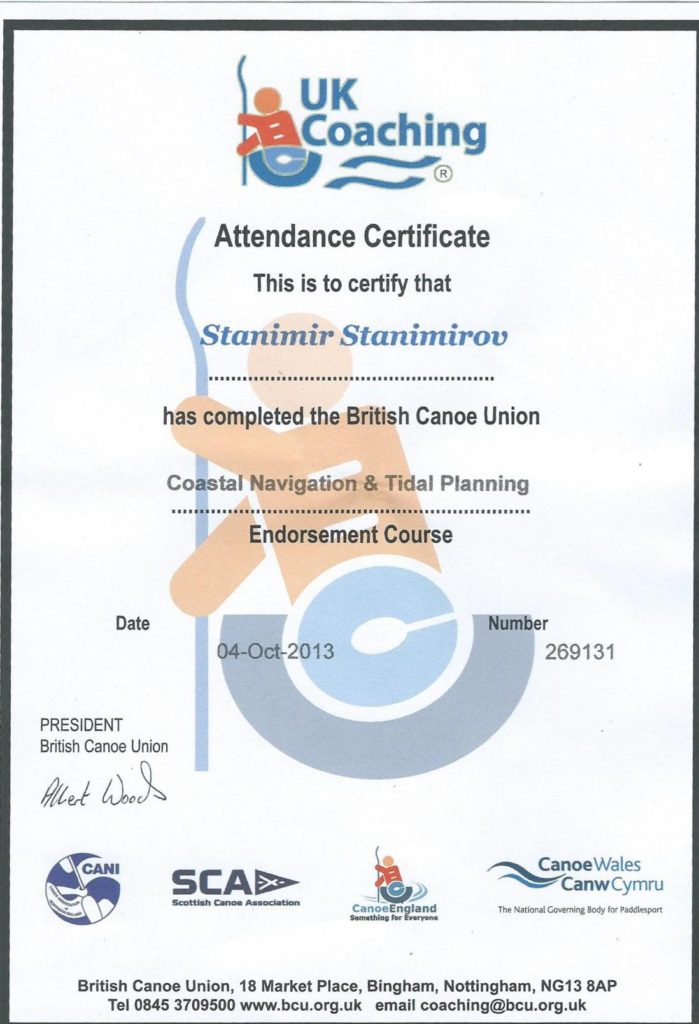 Rafting Simitli is a member of the tourism federation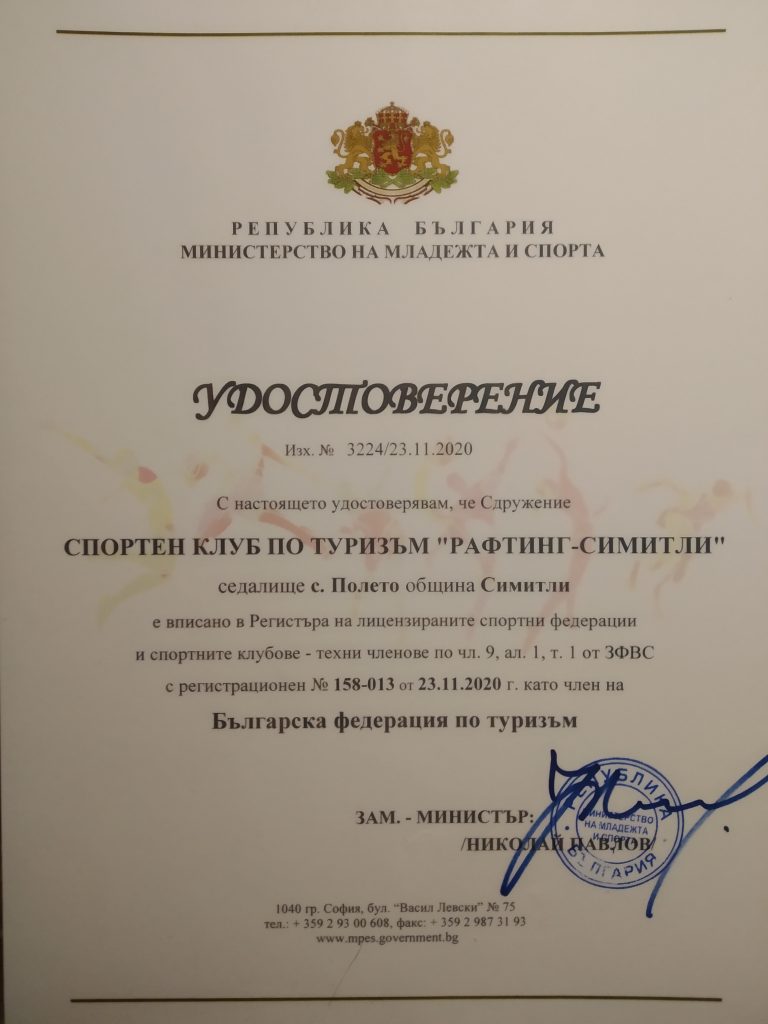 Certificate for rafting instructor and water rescue, issued by Charles University in Prague, Faculty of Sports, date of issue 2004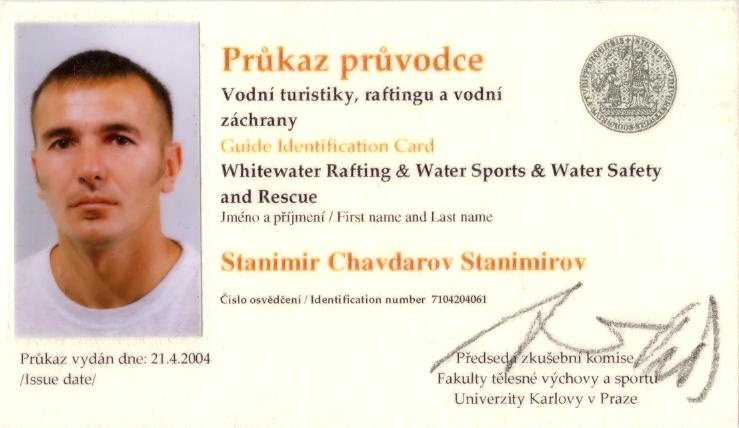 Certificate for class 3 according to IRF (World Rafting Organization) issued in March 2009 to Nikolay Stoychev Dzhambazov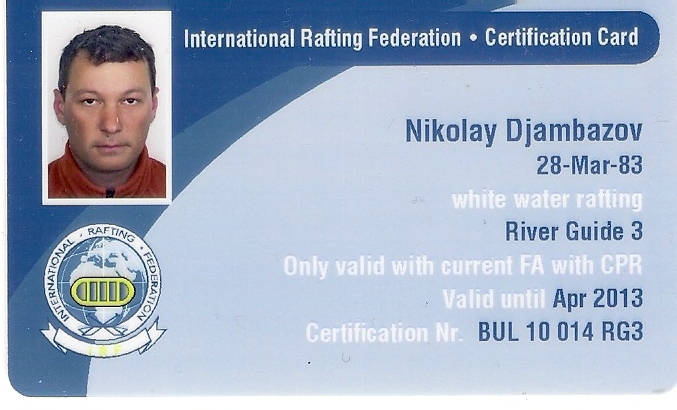 Rescuer's certificate in water pools and water parks, issued to Dimitar Romeo Hristov on 21.12.2007